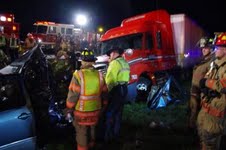 INDIANA, (WTVB) - It's the worst deer related crash in the region in recent Memory. Seven people were killed instantly after their Mini van struck a white tail as it bounded across the Indiana Toll road just south of the Michigan border in Elkhart County east of Bristol.
Three other members from the extended Ecuadorian family riding in the van were injured. It wasn't the deer that killed them, it was the semi-tractor trailer that hit them after they stopped in the driving lane following the collision with the animal.
State Police Sgt. Trent Smith says one of the men who survived the wreck is reported in stable condition while a man and a woman airlifted to a South Bend hospital are in critical condition. The Semi-driver was treated and released.
Smith says none of the occupants of the van had seat belts on. They were living in the Chicago area and were on their way to a funeral in New Jersey. when the terrible accident happened around 8 p.m. Thursday.
We learned Friday that among the dead was a 6-week old infant boy, two children, a boy and girl, both 8-year olds, along with a 15-year teenage boy. They were all related members of 3 different families.