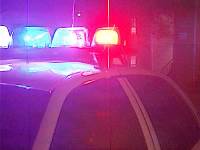 BATTLE CREEK, MI (WKZO) -- Periodically we hear of Semi's rolling over, usually spilling their loads on highway ramps, but this one was something special. A semi hauling an Industrial Press Machine on a special, sectional 50-tire trailer designed to haul extreme weights, rolled on its side while trying to make the turn at Raymond and Cliff St. near Battle Creek late yesterday morning.
Crews spent the rest of the day removing the 175-ton rig one piece at a time, eventually bringing in a large crane to lift the press itself, which was bound for a local rail-yard and then shipment to Philadelphia.
The moving firm had all the proper permits and escorts. The truck driver wasn't hurt.