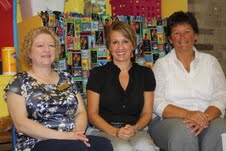 COLDWATER, MI (WTVB) - For many years Coldwater has been in need of an early education class for three year olds with the focus on school readiness and kindergarten preparedness for our youngest community members. With the help of the Branch County Community Foundation, this program is being made possible, but additional support is still needed for the three year pilot program.
With this start up grant, the intent is that the three year old preschool program will be self-sustaining because of those who can pay tuition so that their child can have this high-quality experience. The entire cost of the program is $35,000, in which $25,500 has already been secured from the Foundation's general fund for Branch County, and from pledges from donor advised funds and individual donors.
The Coldwater Schools Early Preschool is open to all Branch County residents. It's a fun, activity-based learning environment, providing key education for Kindergarten Readiness, as well as incorporating physical activity for three and four year olds.
Colleen Knight, Executive Director of the Branch County Community Foundation says high quality early learning is not just about an education. It's about teaching children 'soft skills' like motivation, the ability to work with others, as well as attention and self regulation---all of which are important not only to success in school, but success on the job, Success in life.
She says a donation to this project and the Early Childhood Investment Fund will help assure that young children in our area get opportunities early in life to learn those important life skills. For more information on how to make a donation to this important community program, please call the Branch County Community Foundation at 517-278-4517.