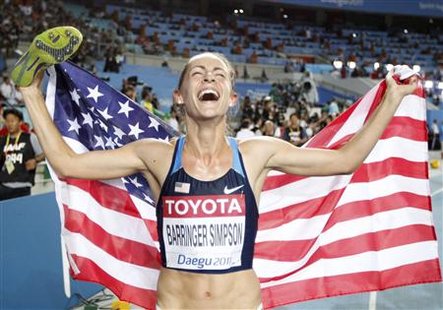 By Ossian Shine
DAEGU, South Korea (Reuters) - The United States flexed their muscles at the world athletics championships on Thursday, harvesting three of the six titles on offer, while Britain finally won an elusive gold medal in Daegu.
Kenya extended their dominance of the men's steeplechase and celebrated with some joyous theatrics on the track afterwards and double-amputee Oscar Pistorius produced another momentous achievement,
Lashinda Demus in the 400 meters hurdles, 1,500 meters runner Jenny Simpson and high jumper Jesse Williams lifted the United States to the top of the medals table on a glittering night for the Americans.
Although Simpson's winning time of four minutes 05.40 seconds was the slowest to win a world title, her triumph left her euphoric.
She crossed the line wide-eyed and holding her head after leading home Britain's Hannah England and Spaniard Natalia Rodriguez.
"I am supposed to say I am not surprised," Simpson told reporters. "All I can say is that a dream has come true. Absolutely there will be a big celebration tonight - I guess I will not sleep for the next (few) nights."
Demus ran 52.47 seconds in the 400 meters hurdles, beating defending champion Melaine Walker of Jamaica into silver with Russian Natalya Antyukh bronze. Williams completed a hat-trick of golds for the United States when he won the men's high jump with his first attempt at 2.35 meters, the first U.S. gold in the event in 20 years.
"We have a great team, with fantastic talented athletes and they know how to do well at the big dance," U.S. coach Vin Lananna told reporters.
GREENE BREAKS DROUGHT
In the last race on Thursday, Welsh 400 meters hurdler Dai Greene broke the drought for a British track-and-field team who will be relieved to have finally got off the mark less than a year before their nation will expect them to deliver as Olympic hosts.
"I am just overwhelmed, I cannot believe it happened to me," Greene told reporters. "I am so happy about this victory -- now I am number one in the world."
Pistorius, who runs on carbon prosthetics after his lower legs were amputated as a baby, is redefining athletic achievement at these championships and, in the scorching day session, led his 4x400 meters South African team mates to the final and a national record.
"It is unbelievable to be one of four names on a list to run a national record," the jubilant 'Blade Runner' told reporters. "I'm extremely proud."
Pride, too, was written all over the face of Ezekiel Kemboi who streaked to gold in the 3,000 meters steeplechase before setting off on a lap of hip-wiggling, gyrating celebrations.
Kenyans have now won nine of the 13 world steeplechase titles.
"I am happy to have won," Kemboi said, though his smile made the words redundant. "My friend Usain Bolt was not in the final and couldn't dance so I had to do it for Usain." Bolt was disqualified at the start of the 100 meters final on Sunday for a false start.
Compatriot Brimin Kipruto won silver with a bitter Mahiedine Mekhissi-Benabbad bronze, the Frenchman believing Kipruto had unfairly denied him second place.
"When I start passing him he blocked my path," he told French television. "I told him it was not fair play. He looks behind and changes his line."
A French appeal was rejected by the world governing body.
The curse of the cover claimed its fifth victim in six days when official program cover star and defending women's triple jump champion Yargeris Savigne was forced to pull out of the final through injury.
On the first four days of competition each athlete featuring on the program's cover - including Bolt - suffered an ignominious exit.
(Editing by John Mehaffey)