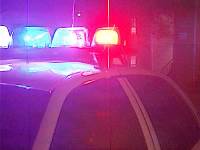 PLAINWELL -- A Battle Creek man is being held on gun charges after a minor fender bender at M-89 and 9th St. near Plainwell has turned into a much bigger investigation.
The driver of a pick-up is refusing to explain how bedding, that appears to be soaked in blood, ended up in the bed of his pick-up. Tests showed it was human blood. Allegan County Detectives say 41-year-old James Ordway isn't talking. They have charged him with being a felon in possession of a handgun.
Investigators spent Friday evening searching around the home of Ordway's relatives in rural Barry County near Delton. That is where they believe he may have been coming from when he had the fender-bender.
Investigators are asking that anyone who may know where Ordway has spent the last few days, to give them a call. They searched but reportedly found nothing in his home that would explain the blood.
Ordway has a record. He was arrested for resisting and assault with a deadly weapon in 2007. Bond is set at 500-thousand dollars.