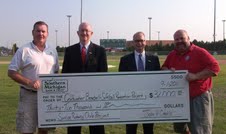 COLDWATER, MI (WTVB) - In Branch County high school sports last night, in boy's soccer, Quincy came away with a rain soaked 3-to-0 league victory at Jonesville. The visiting Orioles poured on the pressure throughout the night as the Orioles outshot the Comets 33-to-6. Quincy's first goal came at the 21:43 mark of the first half as Luke Haberl scored on an assist from Colin Albright, Ryan Williams then gave Quincy a 2-to-0 lead as he scored at the 12:07 mark on an assist from Nekoda Cartwright.
Cartwright then followed up with a goal, closing out the scoring for the match with 3:10 to go in the half on an assist from Luke Haberl. The game was delayed for 30 minutes due to lightning as the first half ended. Dakota Finley had 5 saves in goal for the Orioles. Quincy remains tied for first place in the Independent Soccer League Conference with a 5-0-1 record with one conference game to play. The Orioles overall record is 10-3-and-1.
Last night in volleyball, Quincy lost in three games at Springport. Regen Stahl had 6 kills and 17 digs for Quincy. Morgan Kotwicki had 2 solo blocks while Bree Spalding had 7 assists.
In another Big-Eight Conference match, Union City lost at home in three games to Concord. Brittney Keller had 3 kills for Union City. Martha Merchant had 6 digs with 2 blocks for Brooke Johnson and 3 assists for Jasmine McIntosh.
In Cross Country, Quincy and Union City ran at Concord in the first of four Big Eight jamborees. Both the Quincy boy's and girl's teams each finished in third place while the Union City boys took fourth place and the girls sixth place. Leading the Quincy boys was Brett Palmer with a fifth place finish followed by Riley Horn in 11th place. Union City's leading runners for the boys were Austin Coffman in seventh place and Jesse Anderson in 12th place. In the girl's race, for Quincy, Megan Karney was 7th, Courtney Musgrave 13th and Kelsey Bean 14th. For Union City, Grace Hilarides finished in 32nd place.
Also in Cross Country, Bronson's Caleb McGuire and Corissa Ross each finished in first place in a St. Joe Valley Conference Jamboree at White Pigeon. Also with top ten showings for the Bronson boys were Hunter Machus in third place, Matt Cosby in fourth place and Dale Disbro in ninth place. In the girl's race, Tana Shimp took fifth place and Mariah Roberts finished seventh.
In boy's tennis, yesterday's Coldwater match at Mattawan was postponed by rain and they'll try again to play this afternoon. Elsewhere on today's schedule, in boy's soccer, Coldwater is at home against Tecumseh with the j-v match at 5 p.m. followed by the varsity at 6:45. Also, Quincy is hosting Hanover-Horton at 5:30 the AYSO Creal Soccer Complex in Coldwater. In volleyball, it's Coldwater at Marshall and Bronson at White Pigeon.
Today on the Coach's Corner, it's Bronson football coach Jeff Gallup.
In baseball, Southern Michigan Bank and Trust has announced a donation of $32,000 toward the ongoing efforts of the Coldwater Township Sunrise Rotary and the Coldwater American Amateur Baseball Congress to underwrite improvements slated for Lowe Field located at the Coldwater High School and for Borden Field adjacent to the tennis courts in the Heritage Park Complex. Twenty thousand dollars of the commitment will help fund construction of new spectator stands along with a press box, concession stand, restrooms and scoreboard renovation at Lowe Field.
The remaining $12,000 will provide a new electronic scoreboard at Borden Field. Since Coldwater High School has three teams playing on the ball fields in the spring and in the summer, the new scoreboard at Borden Field will get plenty of use as well. Last season there were seven tournaments that used Borden Field and this gift, along with the many other upgrades already in place, will put the finishing touches on that field.
In middle school sports yesterday, in volleyball, it was Coldwater at Battle Creek Lakeview. The host Spartans took both of the eighth grade matches 2-games-to-1. In the "A" match, Shelby Kahler led Coldwater at the serving line with 14 points. Stacy Guzy and Kyleigh Schiedler each had 4 assists with 2 kills apiece for Kahler and Gabby Milnes. In the "B" match, Emile Dunny led the way with seven serves.
Coldwater's seventh grade "B" team beat Lakeview two games to one. MiKayla Croyle had 8 service points. The seventh grade "A" team lost the Spartans 2-games-to-1. Brodi Tobolski led the team serving with 4 aces and 1 serving point. Lydia AcMoody had 1 ace and 4 points. Tobolski and Megan Gallup each had 2 blocks and 2 kills.