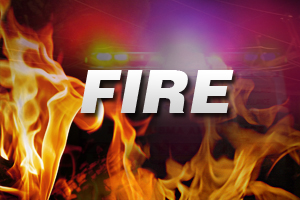 GOBLES (WKZO)- It's the kind of disaster in a small town that will always be remembered by the locals as a milepost in its history. The kind of fire that can change a town's trajectory. Last night' in Gobles, a fire started in the back of Jan's Trailside Café and spread to the bait store and the bar on either side, flattening all three and the historic, irreplaceable buildings in the Van Buren County Community. It will be remembered because most of the town came out to watch it burn.
There were no injuries, just a lot of broken hearts as a good part of the picturesque downtown burned to the ground.
They will be looking for the cause this weekend . Multiple fire departments responded, spending hours putting water on the flames, but they could not stop it from spreading to two adjacent buildings.
Other buildings will also be assessed to determine if they suffered smoke and water damage.