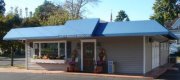 COLDWATER, MI (WTVB) - Time flies when you're having fun, even if that means root canals and before you know it, you've been a dentist for nearly 50 years and you're 80 years old.
If anyone could help keep your stay in the dental chair on the light side, it's Budd Loehr, and there's sure to be plenty of laughs and stories Friday when family and friends gather in Coldwater to celebrate Dr. Loehr's 80th birthday with an open house tomorrow afternoon at Adult and Pediatric Dental Care from 12:30 to 2:30.
Budd is a Navy veteran and after his tour of duty, he finished college and began dental school at the age of 30. Budd and Ruby Loehr moved to Coldwater from Detroit in 1966 after Budd's graduation from the U-of-D dental school. The Loehrs settled down and raised their family of four, two boys and two girls.
In between the kids and work, Budd is an avid outdoorsman with his love of hunting, fishing, skiing, swimming, and scuba diving. A-M-1590 and the new FM 95.5 WTVB will be part of the party tomorrow when Ken Delaney broadcasts live from Adult and Pediatric Dental Care.