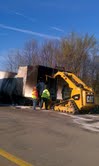 COLDWATER, MI (WTVB) - A semi-tractor trailer went up in flames early today on southbound I-69 just north of Coldwater. The truck driver wasn't hurt as he was able to pull his cab away from the trailer and its cargo of corrosive plastics.
It happened just after 1 a.m. today and that portion of the interstate was closed for hours. The fire started in the rear wheels of the trailer at around the 14-mile marker. A hazmat crew was called to the scene to remove the materials from the trailer.
Traffic was taken off southbound I-69 at Jonesville Road and then detoured west to Marshall Road and then south into Coldwater and U-S 12, and then east back to the Interstate.