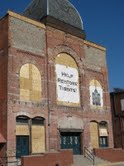 COLDWATER, MI (WTVB) - An appreciative crowd of approximately 250 attended the 9th annual Tibbits teen talent show as vocalist Travis Hurley won the first ever "Audience Choice" award on April 14, 2012 at the opera house.
A Quincy 9th grader, Hurley sang a rendition of "Don't Think I Don't Think About It" by Darius Ruckerr. The audience voted Hurley first place with a $100 cash prize and a place in Tibbits history as the very first winner of the special award.
The talent show also had a separate, juried section where three judges, Amy Smith, Flip Johnson and Karen Smith, voted for their top selections. First place of $100 was awarded to the guitar duo of Rodney Harris and Darius Schuerman, both Coldwater High students.
Sixth grade Quincy students Merideth Michael and Victoria Waligora did a dance medley to "Evolution of Dance" for a second place finish of $75. Third place and $50 went to 17-year-old pianist Jack Underwood who played "Come Thou Fount of Every Blessing." Coldwater 10th grader Jacob Covert won $25 and fourth place playing the piano and singing the Lady Gaga song "Paparazzi." Fifth place and $25 was awarded to Hurley, the "Audience Choice" winner, making him a double winner.
During the judges deliberation a karaoke contest was held with a $25 first place awarded to Zach Kiehnau of Coldwater.
The talent show is presented by the Tibbits Teen Advisory Board (T-TAB). Nine years ago then T-Tab member Hailey Smith thought a teen talent show would be a great way to support the opera house and get area youth involved. It has been a success ever since. Current T-Tab members include: Brendan Behnke, Ella Budd, Jacob Covert, Ben Fagen, Aubrey Hodson, Mikayla Johnson, Connor Michael, Sabeek Pardhan, MacKenzie Pickell, Olivia Ogden, Cami Price, Kala Sperbeck, Mary Tate and Erin Washburn.
T-Tab member Sperbeck was the emcee for the event, Hodson was the assistant student director and Price handled the stage manager duties. Washburn and Budd were "front of house." Other members worked backstage and ushered.
For more information about T-Tab visit www.Tibbits.org/youth.