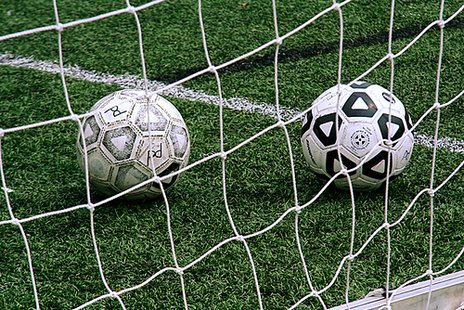 COLDWATER, MI (WTVB) - in Branch County high school sports last night, in girl's soccer, Coldwater dropped its SMAC East opener on the road, losing 8-to-0 at Kalamazoo Loy Norrix. The host Knights scored 45 seconds into the game, and went on to lead 6-to-0 at the half. Coldwater played even with the Knights to start the second half, controlling the play and getting several shot opportunities. Loy Norrix scored their seventh goal with 31 minutes left in the match and their final goal for the mercy rule victory with 24:51 left. Goalkeeper Shelby Bowers made 7 saves, as Loy Norrix outshot Coldwater 17-3.
The overall record for Coldwater is now 1-2-and-1. They host Jackson Northwest tonight in a non-conference match-up with the action scheduled for around 6:45 following the j-v game which is set to start at five o'clock.
In last night's junior varsity match, Coldwater blanked Loy Norrix 8-to-0. Paige O'Grady had 3 goals, Serena Robison and Norma Hernandez each had a goal and an assist, MacKenzie McGuire had a goal and 2 assists, with single goals for Cassey Aldredge and Allison Germann, and an assist for Sylvia Saucedo. The j-v record is now 2-and-1.
Yesterday in baseball and softball, it was Bronson at Mendon with a sweep for the host Hornets. Bronson fell in the baseball game 14-to-4. Mason Friedel took the loss. Tyler Graybill had a hit and 2 rbi's. The Vikings slip to 1-and-1 in St. Joe Valley Conference play and 2-and-7 overall.
In the softball action, Bronson lost to Mendon 8-to-4. Skyler Sobeski suffered the defeat on the mound but led her team's offense with a single, double and triple along with four rbi's. Bronson drops to 1-and-1 in the league and 6-and-6 overall.
In freshman baseball, Coldwater swept a doubleheader at home over Harper Creek 8-to-0 and 10-to-4. In the opener, Jordan Butler tossed a 1-hit shutout with six strikeouts. Shane Dunn went 3-for-3 and scored 3 runs while Butler added two hits and scored a run. In the second game, Morgan Sims earned the victory while Butler had 2 hits and scored twice. The sweep evened the freshman record at 2-and-2.
In girl's tennis, Coldwater played its first home match of the season and defeated Gull Lake 5-to-3. Winners for Coldwater were Jocelyn Sammons, McKenzie Zinn and Madison Zinn at first, second and fourth singles along with Hannah Ford and Jami Maxson at first doubles and Emma Dwyer and Joylyn Morrill at fourth doubles. Also in girl's tennis, Bronson lost at home to Kalamazoo Hackett 8-to-0.
Today's high school schedule includes Coldwater varsity baseball at home against Mattawan and we'll have the action live on AM 1590 and FM 95.5 WTVB with our coverage joining the doubleheader in progress around 5:30 right after the Evening Journal. In softball, it's Coldwater at Jackson Northwest and Bronson at Sturgis.
In track, it's Quincy at Homer, Union City hosts Reading and Bronson hosts Centreville. In boy's golf, Coldwater hosts the Cardinal Invitational with Bronson among the teams in the field for the tournament at the Golf Club of Coldwater. Also, Quincy plays in a Big Eight Jamboree hosted by Union City at Turtle Creek.
In girl's soccer, in addition to the Coldwater home match against Jackson Northwest, it's Quincy vs. Hillsdale Will Carlton Academy at the AYSO Creal Soccer Complex in Coldwater. And in girl's tennis, Coldwater hosts Jackson Northwest.
Today on the Coach's Corner, it's Union City softball coach Chris Mead.
In middle school sports, in track, it was Coldwater at Marshall. Coldwater won the boy's meet 77-to-60 while the host Redhawks took the girl's meet 80-to-41. Coldwater had a double winner in the girl's action with Renee MacArthur finishing first in the 70 and 100 meter dashes.