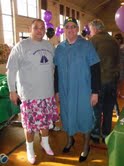 COLDWATER, MI (WTVB) - This is National Crime Victims' Rights Week, a time to honor crime victims and our nation's progress in advancing their rights. This year's theme—Extending the Vision: Reaching Every Victim—celebrates the vision behind that progress and the ideal of serving all victims of crime. Yet there is still so much to do. Victims' rights are not universal and are often not enforced. Only a fraction of victims receive crime victim compensation, which is usually limited to victims of violent crime.
More than 50 percent of crimes are not reported, and fewer than 20 percent of victims receive needed services. The victim services system is fragmented and uncoordinated, and agencies are struggling to keep their doors open in the face of budget cuts.
The Branch County Coalition Against Domestic Violence is observing this week with special events and programs including education and information at the Walk a Mile in Her Shoes on Saturday morning in downtown Coldwater. Vendors will be available at the Walk A Mile event to address issues so that you can be aware of how not to become a victim as well as, if you have been or are a victim where the resources are available in our community.
Every adult attendee will receive a 278-SAFE tote bag and a door prize ticket for an opportunity to win a gift certificate for $500.00 from Dally Tire Company. Participants must be 18 to enter and present to win. The winner will be drawn right before the men's march at 10 a.m. The booths will be open from 9-1 p.m.
Today, it's Pinwheels for Prevention with pinwheels being place in the lawn on the west of the courthouse along Marshall street to show how many families in Branch County are affected by abuse and neglect.
April also marks Sexual Assault Awareness Months and Child Abuse Awareness Month. Because of that purple ribbons are being sold at area businesses to put in windows and start discussions with community members.