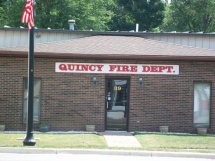 QUINCY, MI (WTVB) - A pole barn in Branch County's Butler Township was declared a total loss after being gutted by fire yesterday afternoon. A German shorthair show dog and two litters of pups perished in the blaze in the structure owned by Chris Bucceri.
The alarm from 1031 Bidwell Road came in around 3:50 pm and the Quincy Fire Department found the sixty-by-forty foot barn engulfed in flames. Quincy received mutual aide from the Coldwater and Allen Fire Departments.
The State Fire Marshall's office will be assisting in determining a cause. Quincy Fire Chief Kurt Barve estimated the damage figure at sixty thousand dollars and said 17-thousand gallons of water was used to douse the flames.