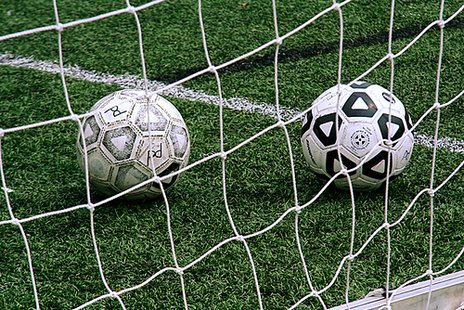 COLDWATER, MI (WTVB) - In Branch County high school sports last night, in varsity girl's soccer, Coldwater lost a hard fought SMAC East match at home to Gull Lake 3-to-1. The visiting Blue Devils got on the board first with 6:39 remaining in the half in a very physical contest with wet field conditions. They added their second goal with just under 28 minutes remaining in the game. The Lady Cardinals came right back, as Kaitlyn Vella's direct kick was misplayed by the Gull Lake keeper, and Miranda Catlin tipped it in for the goal.
Despite Coldwater pressing up on offense late in the match, Gull Lake got their final goal with 1:27 remaining on a scramble in front of goal after a corner kick. The Blue Devils outshot Coldwater 25-to-4 with Shelby Bowers making 15 saves in goal, and Morgan Klein making two. Coldwater slips to 1-5-and-1 overall and 0-and-3 in the SMAC East. Their next match is Monday night at Marshall.
In last night's j-v match, Gull Lake beat Coldwater 2-to-0. Allissa Miller had 13 saves in goal.
Also in girl's soccer last night, it was a home match for Quincy and they blanked Onsted 2-to-0 in conference action at the AYSO Creal Soccer Complex in Coldwater. Quincy had 35 shots on the night and dominated play with both goals coming in the first half. Scoring were Sam Norton and Megan Karney, both on assists from Abby Parrish. It was the third shutout in-a-row for the Lady Orioles and their fourth overall this season. Quincy is now 6-0-and-1 and leads the conference with a 3-and-0 record in league play. Their next match is tomorrow in Hillsdale against Will Carlton Academy.
In baseball and softball yesterday, Bronson played single games at Centreville with the Vikings posting a pair of victories. Bronson won the baseball game 21-to-5, pounding out 19 hits against the Bulldogs. Mason Freidel was the winning pitcher and also had two hits, including a double, scored 4 runs and had 3 rbi's. Sean Czajkowski, Tyler Graybill and Ryan Hagen had 3 hits apiece with 3 rbi's for Graybill. And Jake Cekander had 4 rbi's. The Vikings improved to 2-and-1 in St. Joe Valley Conference play and 5-and-7 overall
In softball, Bronson beat Centreville 11-to-0. Skyler Sobeski tossed a 3-hit shutout with 7 strikeouts and 2 walks. And she helped her own cause at the plate with a home run and 2 singles. Kelsey Scheenks had a single and a triple and an rbi while Liz Wielgos and Lauren Cary each had rbi's with two singles apiece. The Lady Vikings are now 2-and-1 in the conference and 8-and-7 overall.
And yesterday in boy's golf, Coldwater finished fifth in a SMAC East jamboree hosted by Sturgis at the Island Hills Golf Club. Tyler Johnson led the Cardinals with a 41, followed by Connor Dwyer with a 43. Kevin Fishero shot 44, Nick Waterbury 45, Trae McGuire 46, and Scout Case 48.
On today's high school schedule, in softball, Coldwater plays at home against Jackson Lumen Christi. In baseball and softball, it's Quincy at Addison while Bronson hosts Athens. In track, Quincy is at Springport while Union City hosts Concord. In girl's tennis, it's Bronson at Constantine. And in boy's golf, Bronson hosts Climax-Scotts.
Today on the Coach's Corner, it's Union City baseball coach John Bain.
In junior high track, Bronson competed in a tri-meet at White Pigeon and won the girl's meet while the boys took third place. Double winners for the girls were Adriana Sanchez in the shot put and 200 meter hurdles while Jill Pyles won the 400 and 800 meter dashes. For the boys, Kyle Roberts finished first in the 100 meter dash and 200 meter hurdles.