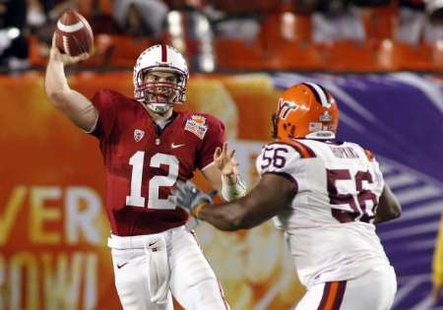 NEW YORK (WKZO) -- The National Football League kicked off it's 2012 draft without much suspense Thursday. The Indianapolis Colts used their first pick to select former Stanford Quarterback Andrew Luck. It has been rumored and finally confirmed earlier in the week that the Colts would use their first pick to bring Luck into the fold.
Luck will now follow in the footsteps of a future hall of famer in Peyton Manning. Manning left the Colts earlier in the off-season following two Super Bowl appearances and one Super Bowl win with the Colts. Luck, a Houston native, became a star at Stanford under former head coach Jim Harbaugh, the University of Michigan product who is now the head coach of the San Francisco 49ers.
No player from a school in Michigan was taken on Thursday night. Locally, the Chicago Bears tabbed Boise State linebacker Shea McClelin with the 19th choice, and the Detroit Lions opted for Iowa offensive tackle Riley Reiff at number 23. The draft continues on Friday, with Michigan State quarterback and Holland Christian High grad Kirk Cousins expected to be taken at some point.