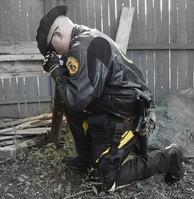 FLINT (WKZO) -- He is a real life superhero known as "Bee Sting" but he finds himself on the wrong side of the law.
Adam Besso a mild-mannered Iraq Vet becomes the self-styled crime fighter when he puts on his outfit and goes patrolling.
That was until he confronted a man on a loud motorcycle with his shotgun at a Flint Mobile Home Park this week. The gun discharged and the blast hit a trailer. He has been charged with assault and wearing body armor.
Besides the bullet proof vest, he also had on shin and knee guards, handcuffs and pepper spray.
He is a member of the Michigan Protectors group, but right now he would be better off if a lawyer came to his rescue.