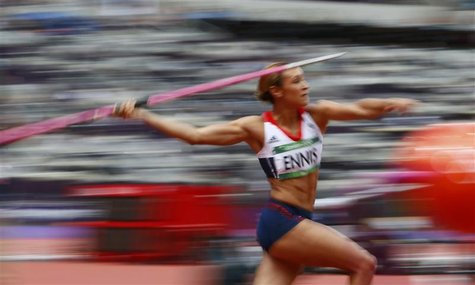 By Alison Wildey
LONDON (Reuters) - Britain's Jessica Ennis is bidding to become only the fourth woman to break 7,000 points for the heptathlon after all but securing the Olympic gold with just the 800 meters to go later on Saturday.
Only American Jackie Joyner-Kersee, whose world record stands at 7,291, Carolina Kluft of Sweden and Russian Larisa Turchinskaya have bettered the mark.
Ennis, the face of the London 2012 Games, has a total of 5,971 points after six of the seven disciplines.
"I think I've got to run 2:05 (to break 7,000) and that's a tough time, but I'll see what I've got left in my legs and I'll go for it," said Ennis whose personal best over the distance is 2:07.81.
However, the 26-year-old is in superb form having set a world mark of 12.54 for the 100 hurdles in the heptathlon and a personal best in the 200 on her way to her highest ever day-one total on Friday.
Ennis followed that up on the second day of competition with a good long jump of 6.48 meters and then, with perfect timing, threw a personal best of 47.49 in her weakest event, the javelin.
"I was anxious coming into today... my long jump having been up and down all year," she told reporters.
"I kept thinking am I going to throw it away doing three no jumps, so it's a massive relief to have got that right.
"To have got a solid jump and a PB in the javelin is more than I could have asked for," Ennis added.
If Ennis was anxious, she kept it hidden from the packed Olympic stadium, appearing oblivious to the noise and excitement around her and only briefly acknowledging the crowd when she was announced for her events.
She kept her composure even after her personal best in the javelin, which was the event that lost her the world title to Russian Tatyana Chernova last year.
Lithuania's Austra Skujyte maintained her medal challenge with 51.13 in the final round of the javelin and has 5,783 with Ukraine's Lyudmyla Yosypenko climbing up to third (5,701).
Chernova, who traditionally has a stronger second day, moved up from ninth overnight to third after winning the long jump with 6.54.
But the 1.89 meters tall Russian could not find her rhythm this time and, with right forearm and elbow strapped in bright blue tape, threw only 46.29 to slip to sixth overall on 5,657.
Olympic champion Nataliya Dobrynska did not appear for the javelin after registering only 3.70 in the long jump.
The Ukrainian world indoor pentathlon champion, who missed some training this year following the death of her husband from cancer shortly after winning that title, had failed to make an impact on the first day ending in 10th.
She ran through the pit on her third long jump attempt and held her head in her hands on the slow walk back.
(Editing by Ed Osmond)