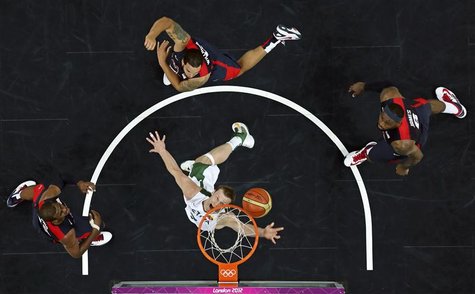 By Larry Fine
LONDON (Reuters) - The United States, coming off a record-breaking win in their previous game, encountered a stiffer challenge against Lithuania in the Olympic men's basketball tournament on Saturday but LeBron James made all the difference in a 99-94 victory.
The Americans had routed Nigeria 156-73 on Thursday to set the Olympic record for most points scored in a game but a staunch Lithuania defense made sure there would be no repeat of that massive score line.
With the game still in the balance, LeBron James rode to the rescue down the stretch, and U.S. coach Mike Krzyzewski said the victory, and the way they earned it, might have been the best thing for his team.
"The game itself was incredibly important," said Krzyzewski, whose team had already clinched a spot in the quarter-finals. "First, of course, to get the win but also because every possession counted. We're not usually in that type of game.
"Winning like we did was terrific for us."
James, named the most valuable player of the NBA Finals, took the game by the scruff of the neck after the disciplined Lithuanian team ran off 10 points early in the fourth quarter to take an 82-80 lead.
James sank a three-pointer to provide a little breathing room at 90-86, then jammed through a fastbreak dunk to make it a six-point lead.
A controlled switch to his left hand allowed him to finish a layup after he was already airborne and one last basket by him finished the scoring for the Americans, who improved to 4-0 in Group A play.
EXECUTE GAME PLAN
Lithuanian coach Kestutis Kemzura said he could understand the U.S. team having a letdown after their previous game.
"I understand how tough it is after winning such an easy game and breaking all the records, to come and focus again to play," said Kemzura, whose team fell to 1-3.
"We executed our plan and we stayed in the game all the way."
Lithuanian Martynas Pocius, who played for Krzyzewski at Duke University, said his team's game plan was effective.
"We tried to minimize our turnovers as much as possible and stop their fastbreaks, and make them shoot contested shots over the hands and box out," said Pocius, who scored 14 points for Lithuania. "We did that for the most part.
"It's one of those games where you kind of have nothing to lose. No one expects you to win the game. We didn't want to get blown out. We wanted to stay as close as we can."
In contrast to the game against Nigeria when nearly every shot the U.S. players launched found the net, the Americans made just 44 percent, while Lithuania shot 58 percent.
James and Carmelo Anthony, who had scored 37 points in just 14 and a half minutes in their record scoring spree, shared top honors for the U.S. team with 20 points apiece.
Linas Kleiza led Lithuania with 25 points.
The performance by James was another facet of the game that pleased the U.S. coach.
"He took the game over, I thought," said Krzyzewski. "He was terrific. He just really made the plays that needed to be made offensively and defensively in the last three minutes.
"To see him respond like that in this setting was one of the positives from this game."
(Editing by Alison Williams/Peter Rutherford)