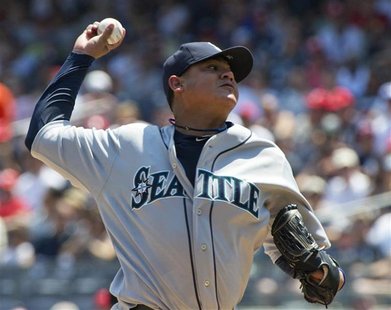 MIAMI (Reuters) - Felix Hernandez threw a two-hit shutout as the Seattle Mariners earned a 1-0 victory over the New York Yankees in Major League Baseball on Saturday.
The Mariners are bottom of the American League West but they have hit some rich form of late with eight wins from their last nine games improving their record to 51-58.
Venezuelan Hernandez's third shutout in his last eight starts came with two walks and six strikeouts from 101 pitches as he made great use of his breaking balls and fastballs.
The Yankees only hits came from a double by Robinson Cano in the first innings and a single from former Mariners outfielder Ichiro Suzuki in the third.
The Mariners run came on a single by Mike Carp with two outs in the second but Yankees pitcher Hiroki Kuroda made it tough with just seven hits and one walk in just over six innings.
The result evens the series at 1-1 after Friday's win for New York and concludes on Sunday.
(Reporting by Simon Evans; Editing by Alastair Himmer)