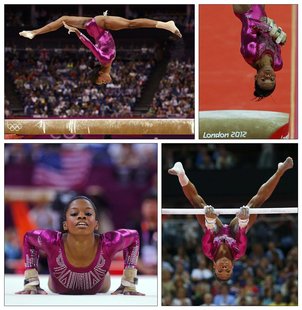 By Michael Holden
LONDON (Reuters) - American golden girl Gabby Douglas, the darling of Olympic gymnastics in London, came down to earth on Monday when she finished last in the final of the asymmetric bars but, far from despondent, she promised to bounce back on the beam.
The 16-year-old captured the hearts of the crowd at North Greenwich Arena and Americans back home with two gold medals and a winning smile, and not even a disappointing performance in another Olympic final was going wipe that off her face.
"I made a little mistake but I'm human. When you get towards the end of an Olympics you're kind of physically drained and tired," she told reporters while still managing to grin as she spoke.
"I could have fought a little harder, pulled a little harder. I'm kind of disappointed in myself ... but you're just mentally tired."
She is not intending to let that slip on the bars get her down, and was already looking ahead to the next day and the beam final, where she qualified in third place.
"I'm going to go into the beam tomorrow and I'm going to finish on a good note and finish really strong," said Douglas who has won the all-around and team gold medals.
"The confidence level has definitely gone up (since winning the golds). You just feel so confident in yourself."
Whatever happens on Tuesday, Douglas, nicknamed the "Flying Squirrel" will return home a marketing man's dream, with an earning potential put at between $5-10 million by some experts, and courted by the likes of U.S. President Barack Obama.
LIFE CHANGE
She acknowledged herself that her Olympic success and huge exposure was going to change her life.
"It's going to be very different. I was the first African-American to win the all round individual. Life's going to be very different - I'm not going to go anywhere without people noticing me," she said.
Her success could not have come at a better time for her family who she said had made huge sacrifices, including financial ones, to support her sporting career.
On Sunday it was reported that her mother had filed for bankruptcy a few months before the Olympics faced with debts of $50,000.
"It was really hard for us because my dad had left us, so he wasn't really in the picture anymore, so my mum had to front all these bills and my dad didn't really pay the child support," the teenager said.
"It was definitely hard on her part and she had to take care of me and the rest of my siblings. It means a lot to me and to them and definitely they've supported me over the years."
Part of her appeal is the fact she is the first black American Olympic gymnast champion but Douglas seemed unsure if she would inspire others with her background into the sport.
She said she had become interested by seeing Carly Patterson win the 2004 Athens all-around gold medal on television and had not seen her color as any bar to getting into gymnastics.
"I remember just watching it and my sister taught me how to do some skills so I really got into it," she said.
"Everybody told me that I had such beautiful and amazing talent. I was a fast learner, a quick learner, so I picked up stuff very good."
Now, she said she is just enjoying being part of the Olympics herself.
"It's an amazing feeling and you feel so honoured.
"I think the crowd is what gets me going and they cheer for me. Definitely they motivate me, and hearing people from the stands say 'Go squirrel' is definitely an amazing feeling."
(Editing by Greg Stutchbury)