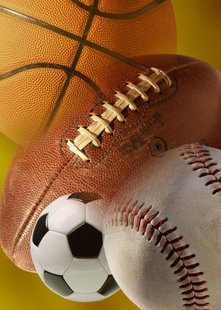 COLDWATER (WTVB) - In Branch County high school sports, two new varsity head football coaches officially go to work today as practices for the upcoming fall season programs in Michigan begin this week starting today with football only and then the rest of the sports join up on Wednesday. The new county coaches are Jeff Schorfhaar in Coldwater and Chris Davis in Union City.
Schorfhaar, a teacher at the high school and long time assistant coach, takes over for the late Norm Moran, who was the head coach at Coldwater for the last three seasons before resigning in December. Moran was hired to be head coach at Eaton Rapids high school but passed away suddenly in May. And at Union City, Davissucceeds long time coach Eric Tundevold, who retired after 34 years as head coach of the Chargers. The first three days of football practice are required to be limited to conditioning without pads or contact. Wednesday will see practices begin for boy's soccer, volleyball, boy's tennis, girl's golf and cross country. Athletes are reminded that they must have a completed physical exam prior to their first tryout sessions. The first dates allowed for events are August 15th for girl's golf and boy's tennis and then two days later for boy's soccer, cross country, and volleyball. The football season for some teams will begin on Thursday, August 23rd, but most teams will kick off the season on Friday night the 24th, when AM 1590 and FM 95.5 WTVB will have our opening broadcast of the fall season with Coldwater at home against Mattawan.
The complete schedule for Coldwater with dates and times for this week's fall sports tryouts and practices is posted on-line at the CHS website at Coldwaterschools.org.