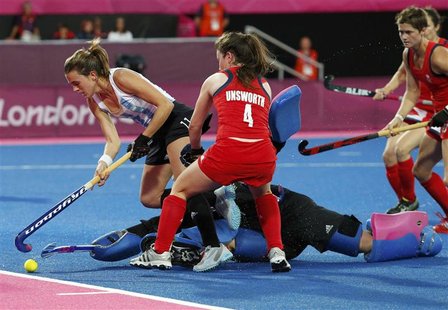 LONDON (Reuters) - World champions Argentina eliminated Britain's women with a 2-1 defeat on Wednesday and will fight over hockey gold with reigning Olympic champions the Netherlands, who squeezed through past New Zealand in a thrilling penalty shootout.
Argentina dominated hosts Britain throughout much of the semifinal, in which "Las Leonas" treated the 16,000-strong crowd to a display of magnificent stick and passing skills, while Britain often struggled to string their passes together.
Just five minutes into the game, Argentina's Noel Barrionuevo flicked a penalty corner through British defender Crista Cullen's legs for the 1-0 lead.
With three minutes to go before half-time, Luciana Aymar, a record seven-time world player of the year, having won a ball back from four British players around her, launched a run down the left line.
She pushed it to Carla Rebecchi, who took it down the baseline and, falling over the British goalkeeper's legs, pushed the ball over the line in free fall for the halftime 2-0 lead.
Britain, who played much more offensively in the second half, came close to leveling when Alex Danson scored with just six minutes to go, deflecting a hard pass across the circle from Helen Richardson, but their last-minute push came too late.
Argentina will face the Netherlands on Friday at 1900 GMT, while Britain are up against New Zealand at 10.30 a.m EDT.
(Reporting by Annika Breidthardt)