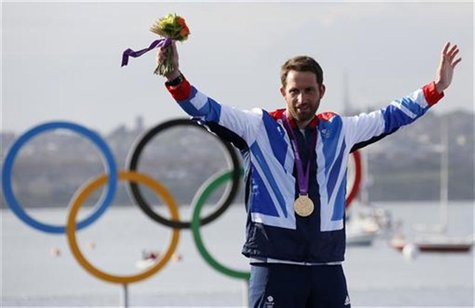 LONDON (Reuters) - Ben Ainslie, now the most successful Olympic sailor after adding a fourth gold to his collection at the London Games, will carry the flag for hosts Britain in Sunday's closing ceremony.
Ainslie, 35, won the Finn class at Weymouth last week for his fourth consecutive gold medal at successive Olympics.
He also won a Laser class silver at Atlanta in 1996, meaning he has won medals in five successive Games.
"There are a number of worthy candidates from Team GB's ranks, athletes who have made the country proud and distinguished themselves through their accomplishments here at London 2012," team leader Andy Hunt said in a statement.
"But in becoming the most decorated sailor in Olympic history, Ben has earned the honor of leading our delegation into the closing ceremony of these extraordinary Games."
Britain are third in the medals table after their best performance since 1908.
Ainslie said it would be a proud moment for him.
"There have been so many people involved in making these Games so special, so I think one thing you'd say on behalf of all the athletes is thanks so much to everyone involved - all the volunteers, and the whole nation for getting behind the team," he added.
Cyclist Chris Hoy carried the British flag at the opening ceremony.
(Reporting by Alan Baldwin, editing by Mark Meadows)