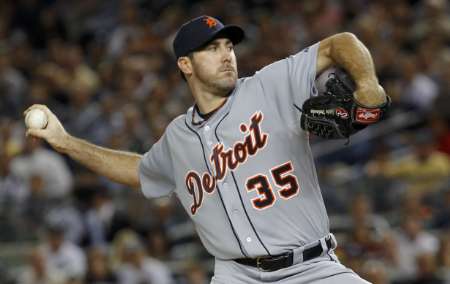 Note: For an end of game Tigers score update, text SCORES to 80373
DETROIT (1660 THE FAN) – Saturday was a night for starting pitchers in Arligton, as Tigers starter Justin Verlander went toe-to-toe with Texas' Derek Holland.
Neither starter earned the decision, as it was a walk off hit in the bottom of the ninth by pinch hitter Mike Olt that gave Texas the 2-1 win in the second game of the series against the Tigers.
Center fielder Austin Jackson scored the only run of the game for the Tigers, a leadoff home run in the top of the first that really served as the only blemish on Holland's stat sheet in the game.
Verlander was strong in 7.0 innings of work, giving up one run on seven hits while striking out eight. Holland had arguably the best start of his season, going 7.2 innings while giving up a run on three hits and striking out nine.
With the loss, the Tigers fail to gain ground on the American League Central-leading Chicago White Sox, who lost to Oakland. Detroit is still a game behind in the division race.
Texas' Mike Adams took the win, moving his record to 2-3 on the season. Detroit's Brayan Villarreal suffered the late loss, dropping his record to 3-3.
The final game of the series starts at 3:05 p.m. ET on Sunday, with Rick Porcello (9-6, 4.62 ERA) squaring off against Texas' rookie sensation Yu Darvish (11-8, 4.57).