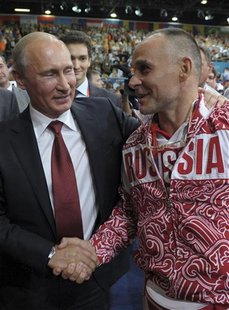 By Michael Holden
LONDON (Reuters) - If Beijing had been a warning for the Japanese, London was the Olympics where they well and truly lost their judo crown with resurgent Russian and jubilant French teams taking over the mantle as the dominant forces on the mat.
The question now is whether Japan, birthplace of the martial art, can turn it around again in Brazil in 2016 or if the rest of the world has caught up with or even overtaken them.
The Brazilians, the hosts in four years, are among an ever-growing clutch of strong judo nations and will be one of those to beat in Rio after bringing home two golds from London, including the first for a Brazilian woman.
Despite an inexperienced team, Japan were tipped to win more than half the 14 golds up for grabs in the seven weight categories for men and women, improving on the four won in Beijing which had been only half as many as in Athens.
But, things started badly when top seed Tomoko Fukumi left empty handed from the women's -48kg division and did not improve much during seven days of competition, with only Kaori Matsumoto managing to win a gold.
It was the first time that Japan had failed to win a men's judo gold since it became an Olympic sport in 1964 and not even rule changes which banned certain moves and had been expected to help them made a difference.
Contrast that with the fortunes of the Russians who had failed to win a single medal in Beijing and not won a gold since the collapse of the Soviet Union.
One of the most memorable sights of the tournament was that of an ecstatic Russian President Vladimir Putin, himself a black belt judoka, embracing Tagir Khaibulaev after he won his country's third judo gold.
"Russia's turnaround from bottom of the medal table in Beijing to top here in London is phenomenal," said the International Judo Federation, the sport's governing body.
MAGICIAN
That success has been put down to Italian coach Ezio Gamba, a gold medalist himself in 1980, who overhauled Russia's judo set-up and introduced a centralized training regime. Their men will now be the team to beat in Brazil.
"He (Gamba) is the magician who achieved what nobody did before," said Alexander Mikhaylin, who won silver in the men's heavyweight section.
France, where judo has long been hugely popular, had not recorded a gold since 2000, but two titles in London and an overall haul of seven medals secured in front of massive French support at the ExCel arena bodes well for the future.
They also boast the world's most outstanding judoka and one of the greatest fighters of all time in heavyweight Teddy Riner, who won gold and has lost just once since 2008.
As Japan faltered, other nations took advantage. South Korea took two titles while the United States ended their long wait for judo gold when Kayla Harrison took the -100kg title, a triumphant outcome for the 22-year-old who had been sexually abused by her childhood coach.
They are hoping it will prove a springboard for greater U.S. interest in the sport and more success in Rio.
"I hope that it means a million little kids in the United States sign up for judo, and I hope that we have seven Olympic champions," Harrison said.
Perhaps, however, the biggest talking point for judo in London did not involve any of the judokas, but the officials who had been desperate to avoid the controversial mistakes which dogged previous Games.
For the first time ever, a reviewing jury using video replays, overturned the decision of the referee and his two judges to award a quarter-final bout between South Korea's Cho Jun-Ho and Japan's Masashi Ebinuma to Cho.
A chorus of boos greeted the decision before it was reversed, setting a precedent for the future. "We want to make sure that the right fighter has won," the IJF's Nicolas Messner told Reuters.
(Editing by Jason Neely)