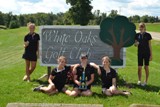 COLDWATER (WTVB) - In Branch County high school sports, the Coldwater girl's golf team played its second match of the season Friday and returned home with the second place trophy from the Hillsdale Invitational at the White Oaks Golf Course. Coldwater had a team score of 387 for its runner-up finish to first place Hillsdale Academy and its score of 374. Coldwater was led by Katie Fair and Anna Wendorf, who both shot 91's which put them in the top ten tied for 8th place overall. Abby Donbrock had a 98, Cecelia Ward fired a 107 and Jacqulyn Neesley shot a 117 to round out the scoring for the Lady Cardinals. Coldwater returns to action Monday at the Tecumseh Invitational.
Also yesterday, the Coldwater boy's tennis team opened its season with a third place showing at the Vicksburg Invitational. Leading the Cardinals with a first place finish at first doubles were Jon Sammons and Nick Waterbury while Ben Hicks and Jake Fielding place second at second doubles. At third doubles, Chris Chartrand and Nate Withington took third place and Buddy Bailey and Dylan Linklater also placed third at fourth doubles. In the singles matches, Derek Sammons placed second at first singles, Nate Waterbury won the consolation bracket at second singles and Alex Mason won the consolation bracket at fourth singles. On Monday in tennis, Coldwater has a quad match at Edwardsburg.
In boy's soccer, the Coldwater junior varsity team had its first match of the season and the Cardinals played to a one-one tie at Vicksburg. Fadel Said scored the Coldwater goal on a rebound off the keeper with 17:20 remaining in the first half. The host Bulldogs scored with 29:42 left in the game. Abdul Saied had 2 saves in goal while Derek Carr made 3 saves and Coldwater outshot Vicksburg 16-to-8. The j-v team has its next match a week from Monday on August 27th at Gull Lake.
And in freshman volleyball Friday, Coldwater had a 2-1-and-2 record at the Comstock Invitational, advancing to the semi-finals before falling to Lakeshore. The Lady Cardinals opened with a split with Otsego and then defeated Lakewood before a split with Wayland Union and then a win over Lawton in the quarterfinals. Today, the varsity volleyball season for Branch County schools tips off with Coldwater,Quincy, and Union City competing in the Battle Creek St. Philip Carrie Adams Invitational while at Bronson, it's the Bronson Vikings Invitational.