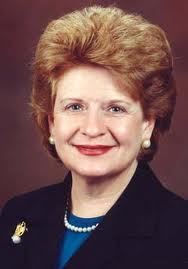 LANSING (WTVB) - Republican Todd Akin says he won't abandon his run for the senate seat in Missouri, despite condemnation from women's groups and democrats, and threats from the leaders of his own party that they will withhold funding from his campaign. Akin says that he plans to plead for the forgiveness of voters and continue the campaign. He thinks he can still win. His mistake? Claiming that women have some internal mechanism that automatically keeps them from getting pregnant when they are sexually assaulted, making it okay to deny abortions, even in case of rape.
Michigan Senator Debbie Stabenow says it's scary that such people are running for the U.S. Senate. A statement released by her campaign claims that opponent Pete Hoekstra has co-sponsored the same type of "extreme" legislation.
Hoekstra confirmed for reporters yesterday that he has been very critical of Akin for the other things he said, but confirmed he opposes abortion even in cases of rape and the health of the mother. Yesterday, the National Republican Party wrote that very same position into their national platform.