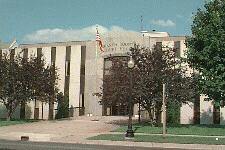 COLDWATER, MI (WTVB) - You'll find increased security on your next visit to the Branch County Courthouse. A new policy forbids the public from taking ANY electronic devices onto the second floor of the building, where the Circuit and District courtrooms are located. The previous policy called for the devices to be kept out of the courtrooms and were allowed to be taken upstairs.
Branch County Circuit Court Judge Bill O'Grady says the policy is designed to allow the courts to maintain security, respect, and dignity of the parties, the subject matter and the judicial process. The plan was approved last fall by the State Court Administrator's Office.
Violation of the local order may result in a fine of up to $7,500 and up to 93 days in jail.