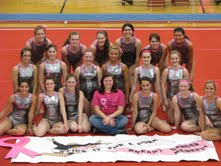 COLDWATER, MI (WTVB) - In Branch County high school sports, 17 wrestlers from county schools placed in the top four, including 4 champions, at Saturday's state tournament individual district competition and qualified for the regionals coming up this weekend.
In Division Two at Eaton Rapids, advancing from Coldwater were Austin Siegel and Brett Burtrum with third place finishes and Paul Monks, who placed fourth.
Bronson, Quincy, and Union City competed in the Division Four District at Galesburg Augusta and Bronson led the way with 8 qualifiers. Winning district titles for Bronson were Hunter Machus, Kahle Scheenks, and Leo Mora. Runner-up honors went to Brandon Losinski. Wes Disbro and Taylor Williams placed third and Joe Allbarran placed fourth.
Quincy sent four to the regionals. Nate Smith had a second place finish, Dalton Hard and Dakota Hard each placed third and Justin Stockton placed fourth.
And from Union City, Taylor Howard won a district title while Justin Counterman placed second. On Wednesday, it will be the team regionals, including Coldwater and Bronson, who each won district titles last week.
In gymnastics on Saturday, Coldwater hosted the "Stick It For A Cure" Cardinal Invitational. Five teams competed including two teams each from each Coldwater and Plymouth and a team from Adrian. Coldwater placed fourth and fifth in the tournament with 128.65 and 103.15 points respectively. Plymouth Salem took home the first place trophy with 134.225 points.
The "Stick It" theme encouraged gymnasts to stick their landings and those who did had their names entered in a drawing for prizes at the end of the meet. Prizes were donated through the generosity of parents including Stacey Hodge, Diane Harmon and also Coach Kim Nichols. The invitational coincided with a silent auction and raffle with all of the proceeds from the breast cancer awareness event going to the Community Health Center of Branch County Foundation to benefit the local oncology center.
Approximately $3700 was raised at Saturday's Invitational. The gymnastics competition began with the vault and Coldwater's Kylie Dudek scored a 9.3 which was the best mark of the day for first place. Danielle Fenske picked up her 3rd qualifier with an 8.0. On the uneven bars, Dudek placed fourth with an 8.4 after falling on her dismount. Becca Harmon earned her third qualifying score. On the beam, Dudek won the event with a solid 9.375 and as a team, Coldwater posted the top score. Fenske placed 9th in the event with her third qualifying score and Sierra Crist earned her third beam qualifier.
Coldwater finished the day on the floor exercise and again, the Lady Cardinal's Red team outscored all of the others on the event. Coldwater claimed two of the top 10 places with Kylie Dudek taking first at 9.4 while Camila Perez scored an 8.4 for 5th place on the event.
In all, Coldwater earned five qualifiers on the floor exercise. In the all-around, Dudek was untouchable for the first place finish as her mark of 36.475 was a full 1.5 points ahead of the second place finisher. The highlight of the day for the Coldwater white team was a 9th place finish from junior Brianne Hodge at 25.15 points. Coldwater returns to competition tonight to host Parma Western and Tecumseh. It's the final conference match of the season, as well as senior and parent's night. The meet will begin at 5:30 in the new gym.
Also on tonight's high school schedule, in boy's basketball, Bronson plays at home against Athens while in girl's hoops, it's Quincy at Mendon while Tekonsha hosts Battle Creek St. Philip.
On Saturday, Tekonsha played a makeup game against Colon and beat the visiting Magi 35-to-22. The victory gave the Lady Indians their third straight SCAA Blue Division title. Britni Upston had 20 points for Tekonsha, which improved to 12-and-4 overall and 11-and-3 in conference play.
Today on the Coach's Corner, it's Coldwater girl's basketball Coach Terry Andress.
In middle school sports, in wrestling on Saturday, the Bronson junior high team traveled to Portage Central to take part in a 16 team invitational. The Vikings had 28 wins and 18 losses on the day and recorded 21 pins. Cole Houtz and Chase Gibson were champions in their weight classes. Second place finishers were Jordon Withington, Tommy Littlefield and David Erwin while placing third were Jon Laser, Isaac Robinson, Carlos Reyes, Mykal Kline and Nathan Caudill.