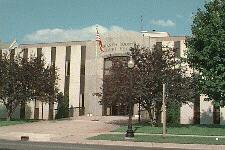 COLDWATER, MI (WTVB) - Serious charges have been leveled by Branch County Prosecutor Terri Norris against the County Administrator, the County Treasurer, and the Board of Commissioners. Norris said at yesterday's County Commission meeting that they acted illegally in using special fund monies from her office to help cover Road Commission pension fund obligations.
The Prosecutor's special fund is earmarked for the mandated victim right's advocate, which the state pays for and by law, can't be used for any other department. At issue is 56-hundred dollars, but the entire salary for the advocate is 53-thousand dollars.
There was no comment from county officials following Norris' appearance at the Board meeting, although County Administrator Bud Norman told us this morning he got a different version of things from a spokesperson in the state victim right's office, telling him the state office would not be the source of determining the legality of the issue in question, suggesting instead it would be up to state auditors.