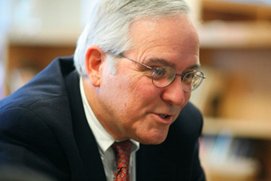 COLDWATER, MI (WTVB) - While the political focus has been on Michigan's presidential primary this coming Tuesday, candidates hoping to challenge US Senator Debbie Stabenow this fall are continuing their campaigning around the state, ahead of the August Republican primary.
Clark Durant, a former Vice President at Hillsdale College and the founder of the conservative publication Imprimis, will be a guest speaker at the Branch County Common Sense Patriots TEA Party Town Hall this Monday. The meeting gets underway at 6 pm at the Community Health Center of Branch County's Community Care andConferenceCenter.
The Republican primary for Senator is seen as a two man race between Durant and former US Representative and gubernatorial candidate Pete Hoekstra.