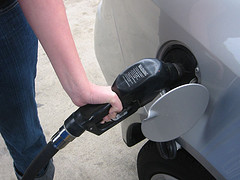 UNDATED (WTVB) - Gasoline prices in Southwest Michigan and Northeast Indiana continued their New Year upward trend on Thursday spiking anywhere from ten cents to a quarter a gallon. Many stations in the Coldwater are selling gas for around $3.60 a gallon, about 40-cents more than at this time last year.
And further tensions in Iran could mean additional increases on the horizon. Iran today announced plans for new military exercises in the world's most important oil shipping lane, the latest in weeks of bellicose gestures towards the West as new sanctions threaten Tehran's oil exports.
The country's naval commander said exercises next month would focus directly on the Strait of Hormuz, which leads out of the Gulf and provides the outlet for most Mid-East oil.