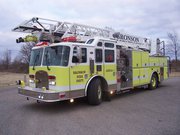 BRONSON, MI (WTVB) - A long time former Bronson Fire Chief has passed away. Chuck Sommerlott died Tuesday at the age of 79. Chuck joined the fire department at the age of 21 and served for 44 years, including 21 as Chief. He succeeded his late father, Faye Sommerlott. Chuck retired in 1997.
Prior to that, Chuck also retired from Somerlott Real-Estate and as Executive Director of the Bronson Housing Commission. He had also been a school bus driver and for a time Superintendent at Douglas Mfg Plant 2.
Sommerlott served the community in many areas, including the Bronson Board of Education and Bronson Township Board.
Funeral services for Chuck Sommerlott will be held on Monday at 11:00 AM at the First United Methodist Church in Bronson. Special honors will be provided by the Bronson Fire Department. Visitation will be Sunday from 2-4 and 6-8:00 PM at the Dutcher-Kolcz Funeral Home in Bronson. Memorials may be directed to the Bronson Fire Dept, the First United Methodist Church or Lifespan Good Samaritan Hospice.