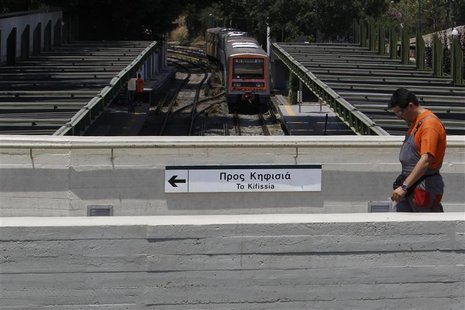 By Renee Maltezou
ATHENS (Reuters) - Greece's new government sought on Thursday to persuade skeptical lenders visiting Athens to ease the punishing terms of the bailout that is keeping the debt-laden country solvent but at the cost of driving it deeper into recession.
Senior officials from Greece's trio of international lenders met with conservative Prime Minister Antonis Samaras and Finance Minister Yannis Stournaras for the first time since Samaras's coalition government took power after a June election.
The mission from the "troika" - the European Union, European Central Bank and International Monetary Fund - is in Athens to review Greece's faltering progress on fiscal adjustment and reform under a 130 billion euro ($162.63 billion) bailout deal.
Trying to take advantage of a shift in Europe towards more growth-oriented economic policy measures, Samaras wants to soften the conditions attached to the bailout - withering tax hikes, job losses and wage cuts that have deepened a recession now into its fifth year.
Setting the tone, the fiery leader of the co-ruling PASOK Socialists, Evangelos Venizelos, told party lawmakers: "Savage dismissals (of public sector workers) can't happen and aren't necessary."
The government faces huge public pressure following a re-run election on June 17 that saw radical leftist bloc SYRIZA surge into second place on a promise to tear up the bailout terms, raising the prospect of a catastrophic Greek exit from Europe's single currency.
But the three-party coalition is running into stiff resistance from European partners, notably paymaster Germany, who say that while they are open to adjusting the program, they will not change its main tenets or targets.
Sworn in on Wednesday morning by black robed priests, Stournaras, a liberal economist who helped negotiate Greece's entry into the euro in 2001, was first to meet the troika. The talks ended without statements. Samaras was next up.
DEFAULT?
In Stockholm, Swedish Finance Minister Anders Borg said on Swedish Radio on Thursday there was a major risk Greece would fail to fulfill its obligations to its lenders and end up in "some sort of default".
Greece risks running out of cash within weeks if it fails to secure the next 31.5 billion-euro installment of bailout funds, Greek officials say.
The troika mission chiefs are expected to leave at the end of the week after meeting the new government but technical staff, who have already started work, will remain to review Greece's compliance with the terms of the bailout.
The mission chiefs are expected to return later in July. Only then will lenders decide how to adjust the program to take account of weeks of political paralysis during two elections in May and June and a deeper than expected recession.
The government says it wants tax cuts, a freeze on public sector layoffs, extra help for the poor and unemployed and an additional two years to cut its deficit.
If implemented in full, that program would undo many austerity measures the country agreed to earlier this year to clinch its second bailout since 2010.
It is offering in exchange to expand and speed up the privatization process.
Prime Minister Samaras will present his government's policy at the start of a three-day parliamentary debate on Friday. A vote of confidence on the coalition is scheduled to take place late on Sunday.
The head of the EU taskforce helping to rebuild the country's economy called on the government to urgently pay out a backlog of value-added-tax reimbursements owed to exporters to ease the financing crunch faced by Greek businesses.
The state owed exporters about 450 million euros in reimbursements since 2009, Horst Reichenbach told a conference in Athens.
"This backlog clearly should be cleared as soon as possible in view of the very difficult financial situation in which many of the exporters find themselves," he said.
(Additional reporting by Deepa Babington, Tatiana Fragou and Harry Papachristou; Writing by Matt Robinson; Editing by Catherine Evans)