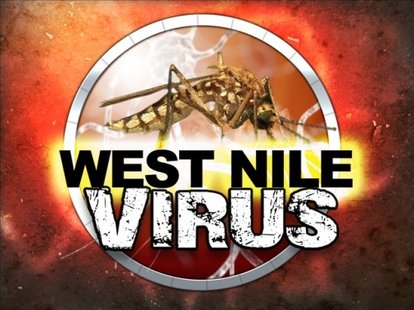 COLDWATER (WTVB) With warmer than average and dry weather, the West Nile Virus (WNV) was recently identified in two Michigan counties. This is the earliest detection of WNV activity inMichiganin several years. CHC and the Michigan Department of Community Health (MDCH) is urging the community to remember to apply repellents during peak mosquito biting periods (dusk and dawn) and drain standing water around their homes.
Due to an unusually warm spring, mosquitoes that can transmit West Nile hatched earlier and are on the rise inMichigan. A mosquito pool sample collected in mid-June by the Saginaw County Mosquito Abatement Commission tested positive for WNV at Michigan State University (MSU) and a wild turkey in Washtenaw Countywas submitted to the Michigan Department of Natural Resources that tested positive for WNV at MSU. This shows that the virus is in circulation in mosquitoes and birds in the state which could present a risk to human health.
The West Nile Virus can cause serious neurological illness, such as meningitis and encephalitis. In 2011, WNV was responsible for 34 serious illnesses and two fatalities inMichigan. Nationally, 712 WNV cases and 34 deaths were reported to the Centers for Disease Control and Prevention.
Mosquitoes that transmit the WNV may breed near people's home in storm drains, shallow ditches, retention ponds, and unused pools. Since there has been a lack of rain, these areas become stagnant and highly organic, which is appealing to mosquitoes that transmit the disease.
In warmer weather, people tend to spend more time outdoors. CHC urges the community to take precautions against mosquito bites. While activity has only been detected in two counties so far, Branch County residents should follow simple, effective strategies to protect themselves and their loved ones. CHC advises the community to use mosquito repellent products containing EPA-approved active ingredients, such as DEET, picaridin, or oil of lemon eucaluptus. Draining standing water and making sure doors and window screens are in good repair will also help keep mosquitoes out of the home.
Prevention is the key. One bite from an infected mosquito can lead to severe and possibly life altering illness. Adults who are 50 and older have the highest risk of illness caused by West Nile Virus. People who work in outdoor occupations like construction and landscaping are also at an increased risk of getting bitten by an infected mosquito.