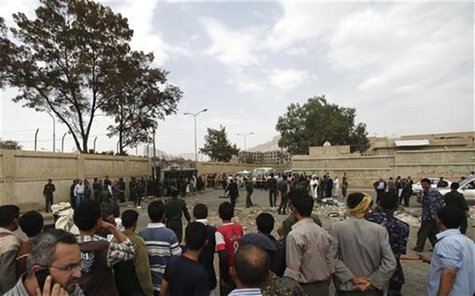 By Mohammed Ghobari
SANAA (Reuters) - A suicide bomber blew himself up outside a police academy in the Yemeni capital on Wednesday, killing at least 22 people - many of them young police cadets - in an attack investigators said bore the hallmarks of al Qaeda.
Policeman Fadel Ali told Reuters the cadets were leaving the college when the bomber attacked. "We ran to the place and found dozens of cadets covered in blood. Blood was everywhere. The scene was horrific."
Another witness said he saw a man in his 20s enter the crowd as cadets gathered in front of the academy. "A loud explosion shook the area and I saw cadets lying on the ground with blood everywhere."
The bombing Sanaa followed a similar attack in the capital in May, when a suicide bomber in army uniform killed more than 90 people during a rehearsal for a military parade.
That attack - claimed by al Qaeda in the Arabian Peninsula (AQAP) - along with Wednesday's bombing - showed quite how far the Yemeni government is from defeating the Islamist insurgents despite a U.S.-backed military offensive which drove them out of their southern strongholds.
The insurgents have vowed to carry their fight across Yemen.
Theodore Karasik, director of research and development at the Institute for Near East and Gulf Military Analysis, said AQAP appeared to be adopting methods used in Iraq.
"It's the same kind of tactics that we see al Qaeda using in Iraq, targeting police academies and the military. There is a migration of tactics from al Qaeda in Iraq to al Qaeda in the Arabian Peninsula," he told Reuters.
The insurgents had been emboldened by waning government control over Yemen during last year's protests that ousted former President Ali Abdullah Saleh, seizing several southern cities before being driven out this year.
The United States has been using drone missile strikes to target Islamist insurgents in Yemen, in an expansion of a secretive program which has raised questions both at home and abroad.
A police source said that the suicide bomber in Wednesday's attack was not killed instantly, but died later in a police hospital.
(Reporting by Mohammed Ghobari; Writing by Sami Aboudi; Editing by Myra MacDonald)