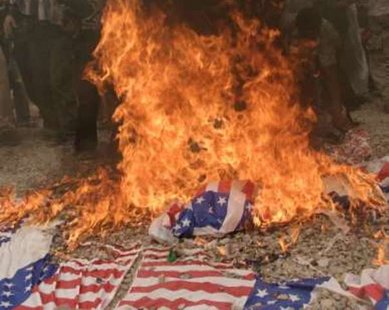 HUDSONVILLE, MI (WHTC) - Contrary to what some people might believe, it is not illegal to burn an American flag. However, when that flag is not your own, the matter turns from a constitutional matter to a criminal one.
Such was apparently the case in the Ottawa County community of Hudsonville on Tuesday night. As Sheriff's Detective Lieutenant Mark Bennett explained, deputies were dispatched to the front lawn of City Hall around 9:20 PM on a report that Old Glory that had been flying on the flagpole there was torched. The person who made the initial call said that a white man was seen fleeing the scene, and another caller described a "suspicious" person a few block away that matched the suspect's description.
Flagging down and interviewing the 57-year-old man from the Grand Rapids suburb of Wyoming, deputies eventually determined that he had been involved in other flag burnings in the area, and arrested him on charges of burning property that was not his own. He was held in the Ottawa County Jail pending arraignment.
Bennett added that the suspect may have been a part of similar incidents over the past year, as the matter remains under investigation.