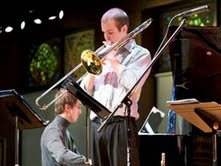 PARIS (WKZO) -- A Western Michigan University music major has just won an international Trombone soloist competition in Paris. Its just the latest honor to be bestowed on Eric Bowman of Portage, who took top prize in the Frank Smith Trombone Solo Competition. He not only won the trophy but a brand new trombone valued at over $4,000.
He is believed to be the only student to ever qualify to compete in both the classical and the Jazz competitions at the same event. He got edged out in the Jazz competition by a student from the Paris Conservatory.
Bowman has also won trombone competitions in all over the world and has won a full scholarship to pursue a Masters at the University of Miami.