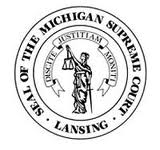 LANSING (WKZO) -- Oral arguments will be heard by the Michigan Supreme Court later this month concerning the font size of the petitions to repeal the emergency manager law, Public Act 4.
Opponents of the law used a different font size on their petitions than the 14-point size spelled out by state law. Justices are trying to determine if the repeal should be on the ballot after the Michigan Court of Appeals ruled the petitions were in "substantial compliance" with the law.
The state Board of Canvassers was unable to come to a decision earlier this year on allowing the proposal on the November ballot.