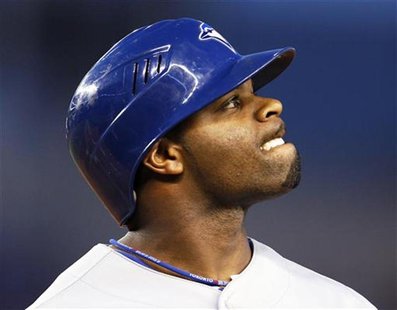 (Reuters) - The Toronto Blue Jays placed outfielder Jose Bautista on the 15-day disabled list with left wrist inflammation, the Major League Baseball (MLB) team said on Tuesday.
The loss of Bautista, who suffered the injury in Monday's 6-3 road loss to the New York Yankees, is a blow to a Blue Jays team that is two games out of the second wild card playoff berth in the American League.
Bautista, a key component of the Blue Jays offense who led MLB in home runs in each of the last two seasons, is currently tied for second in the major leagues with 27 home runs in 2012.
The three-time All-Star, who injured his wrist on a swing in the eighth inning, left the game after being attended to by Toronto staff members.
The Blue Jays called up outfielder Anthony Gose from Las Vegas of the Triple-A Pacific Coast League, where he has a .292 batting average, five home runs, 41 runs batted and leads the league with 29 stolen bases.
(Reporting By Ben Everill in Los Angeles; Editing by Frank Pingue)