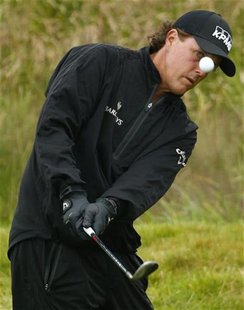 By Ed Osmond
LYTHAM ST ANNES (Reuters) - Phil Mickelson believes the storming final round which left him joint runner-up at the 2011 British Open will give him the momentum to go one better in this year's tournament at Lytham.
The four-times major champion has managed only one other top-five finish in 18 appearances in the Open but his closing 68 at Sandwich 12 months ago has boosted his confidence.
"What was so much fun for me about last year was I was able to make a move in horrible weather and that's one of the things that has excited me because historically I've not played well in bad weather," the 42-year-old American told a news conference on Tuesday.
"Now I look at it a little bit differently. I almost welcome it in a sense.
"I certainly have more confidence in competing and playing in bad weather and the different challenges that links golf presents after having had some success after last year."
Mickelson finished third in the 2004 Open at Troon amid a succession of disappointing performances in Britain that he puts down to his initial failure to understand links golf.
"My attitude has evolved favorably," he said. "It took me a while to be able to understand what it meant to get the ball on the ground.
"I was able to hit the ball low but I would still hit it with spin and it would stay in the air and kind of hover above the ground rather than getting it on the ground.
BAD WEATHER
"It didn't really click until six, eight years ago. Now when it gets really bad weather, my misses in crosswinds are not as bad as they used to be because it's on the ground and out of the wind a lot quicker," added Mickelson.
"That's made me really enjoy and appreciate playing links golf and playing in the elements."
Mickelson said he still gets a buzz from competing against the world's best players in big tournaments.
"I enjoy competing," he said. "I've always just enjoyed competing, no matter what it's at. I have just a lot of fun doing that.
"I don't know a great way to describe it but I have fun with a lot of players where we'll have some good matches," said the left-hander.
"I love competing outside of golf, too, table tennis. There are a lot of guys that are better than me but I still love to compete and try to hang out with them. It just is a great way to have fun."
Mickelson said he was looking forward to putting on the Lytham greens which are in immaculate condition despite recent heavy rain.
"Putting is always a key," he said. "The greens are beautiful. They're in great shape. You really can make some putts. They roll very true. If you get the ball in the right line, they'll go in."
Mickelson is planning to take fewer risks than usual with his driver.
"Here specifically off the tee has a greater importance than most weeks and so there will be a number of holes I'll be a little more conservative off the tee in an effort to ensure getting the ball in play," he said.
(Editing by Tony Jimenez)