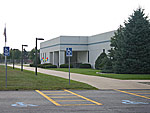 COLDWATER (WTVB) - The Kellogg Community College Grahl Center property in Coldwater has been transferred from the Branch Intermediate School District with the land deed going to KCC. The action was taken Tuesday by the BISD Board and is part of legislation sponsored by State Representative Ken Kurtz of Coldwater to guarantee the property be used exclusively for public purposes such as a community college.
The Kurtz bill provides that the State would be entitled to reenter and repossess the property if that condition were not met. Branch Intermediate Superintendent Joe Lopez said the property transfer shows the merits of real cooperation between two school programs. KCC President Dennis Bona and Vice President Mark O'Connell were at yesterday's board meeting along with Ken Kurtz. Lopez said the bottom line is that the resolution passed Tuesday will bring increased opportunities for students in Branch County.
The land was originally conveyed by the State to the Branch ISD under in 1978. In 1994, Kellogg Community College opened its off-campus facility in Coldwater with the building was financed through the county building authority and the debt service on the bonds paid by KCC. The bonds have now been retired. The Grahl Center houses administrative offices, two main computer classrooms, one open computer lab, a general purpose science room, eight general classrooms, and a student lounge. Approximately 700 students enroll in courses each semester at the Grahl Center.