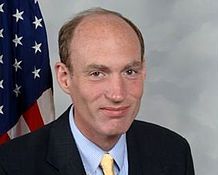 LANSING (WKZO) -- There had been hopes they might be able to avoid a special primary to replace Congressman Thadeus McCotter, but unless Four Republicans drop out of the race by Monday afternoon, Wayne and Oakland county communities in the 11th Congressional District will be forced to hold a special primary election September fifth.
It will cost 650-thousand-dollars. The special election was required by law after McCotter resigned his seat after a petition signature scandal which kept the incumbent off the November ballot, and triggered an investigation for election fraud.
The winners of the special primary will face off in a special November election to fill McCotter's position for just a couple of months, until January 2013. The winner of the regular general election will serve two years in Washington.