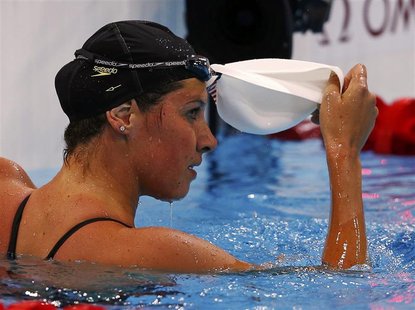 LONDON (Reuters) - American Kathleen Hersey outpaced Chinese world champion Jiao Liuyang to top the qualifiers for the women's 200 meters butterfly at the London Olympics on Tuesday.
The 22-year-old Hersey plowed her way through four laps of the Aquatics Centre in a time of two minutes, 06.41 seconds to advance to the semi-finals as the top seed.
Jiao easily won her heat in 2:07.15 to finish second overall while Britain's Jemma Lowe was third fastest.
China's Liu Zige, the reigning world record holder, was 11th overall but Britain's Ellen Gandy, a silver medalist at last year's world championships, missed out on the semi-finals after finishing 17th.
Only the top 16 advanced to Tuesday's semi-finals, from which the eight fastest will move through to Wednesday's final.
(Reporting by Julian Linden; Editing by Greg Stutchbury)