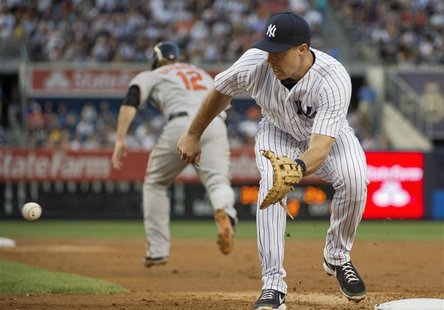 (Reuters) - New York Yankees slugger Mark Teixeira left Monday's game with a wrist injury and will need an MRI to determine the extent of the damage.
Teixeira exited in the seventh inning of the Yankees' 5-4 loss to Baltimore after aggravating a problem he had suffered a day earlier. He will undergo tests on Tuesday.
"It's a big concern," Yankees manager Joe Girardi told reporters, with the Yankees already missing injured power-hitter Alex Rodriguez.
"He's a huge part of our lineup, and hopefully it's only a couple of days, but we'll find out more (Tuesday)."
Teixeira was first hurt Sunday while swinging at a pitch against Boston, but it worsened Monday when he dived for a ball and landed on his glove.
A dangerous presence in the Yankees lineup, Teixeira is batting .256 with 20 home runs and 71 RBIs.
"It is concerning, but no one is going to feel sorry for us," Girardi said. "We've got guys that are still capable of getting the job done. Hopefully, it's not too bad."
(Writing by Jahmal Corner in Los Angeles; Editing by Alastair Himmer)