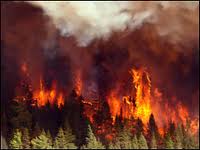 LUCE COUNTY (WKZO) -- The Duck Lake wildfire continues to burn in the Upper Peninsula. Senator Debbie Stabenow says over 20-thousand acres have been scorched and hundreds of homes have been claimed by flames, so she's calling on FEMA to provide aid after an initial claim by the state was rejected.
"The first initial application didn't have all the specifics of loss, so I went up myself to see it," says Stabenow. "I'm working with [FEMA] on getting them better information, better data, on the amount of the loss."
Luce County Community Resource and Recreation Center Director Mary Archambeau says they're seeking donations of cash and resources for firefighters. Among the items in need are bug spray, energy bats, boot insoles, hair ties, travel mugs, and individual packs of travel wipes for firefighters.