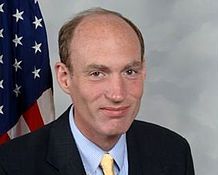 LIVONIA (WKZO) -- Less than a week after announcing he would launch a write in campaign to try and retain his seat in Congress, Thad McCotter has pulled the plug on the effort. The Republican Congressman from Livonia launched a long shot presidential bid last year, but had to give it up when it looked like other candidates were interested in running for his day-job...his seat in Congress.
An investigation has begun to determine why only 244 of the 2,000 signatures handed in by his campaign were valid, and why pages of old signatures were handed in along with the new ones.
Other candidates were already beginning to snipe at McCotter's incompetence and integrity for failing to complete the relatively simple chore, and the election fraud allegations..
McCotter said in a statement that carrying out his duties as a congressman would not leave him enough time to run a write-in campaign, so he is withdrawing.