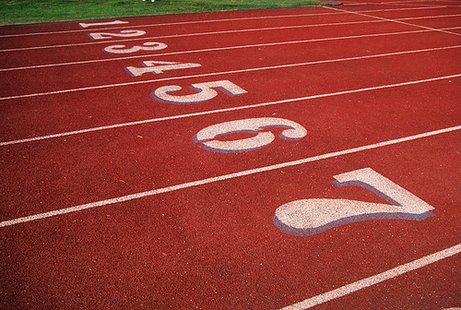 COLDWATER, MI (WTVB) - In Branch County high school sports, Coldwater and Quincy won district baseball titles on Saturday while Bronson won a district softball title and several members of the Union City boy's track team won gold medals at the state track finals.
In baseball, Coldwater captured the Sturgis Division Two district, beating the host Trojans 4-to-2 in the semi-finals before defeating Edwardsburg 4-to-3 in the championship game. In the Sturgis victory, Skylar Reincke went the distance for the Cardinals with an 8-hitter. He also had 2 hits, including a double. Zach Watson and Jeremy Harrell also had two hits apiece with 2 rbi's for Harrell. Coldwater scored 2 runs in the top of the seventh for the win, breaking a two-two tie.
In the title game, Kam Sielken was the winning pitcher, allowing 4-hits and 3 runs over five and two-thirds innings. Jacob Fielding earned the save while not giving up a hit over the final one and a third innings. Skyler Reincke had two hits and scored twice for the Cardinals while Derek Smith and Brandon Vandenhout each had a double. Coldwater moves on with a 20-and-18 record and will face South Haven Saturday at Noon at the Edwardsburg Regional. In the other bracket, it's Gull Lake against St. Joseph.
Also in baseball this past weekend, Quincy hosted a Division Three district and the Orioles won the title in a couple of close contests Saturday, defeating Union City in the semi-finals 6-to-5 before holding on to beat Bronson 15-to-13 in the championship game. In the Orioles semi-final victory, McCabe Brand went the district to earn the victory, scattering 5 hits with 3 earned runs. Andrew VanBuskirk had two hits, including a third inning grand slam. Emmett Fraley took the loss for the Chargers, and also Fraley had a double and two rbi's. Union City's final record was 19-15-and-1.
In the other semi-final, Bronson rallied to beat Constantine 18-to-15. The Vikings were down 15-to-7 before they staged their big comeback. Mason Friedel was the winning pitcher. Tyler Graybill had 4 hits, including a home run and double and four rbi's. Hayden Jergens had 3 hits, including a double and an rbi. And Sean Czajkowski and Kyle Smith added two hits apiece with two rbi's for Czajkowski and one for Smith.
In the title game, Teag Converse picked up the win in relief. Brand had 3 hits with an rbi. Stephen Avra had two hits and two rbi's, Jimmy Strock added two hits and an rbi, and Tristan Haylett also had two hits. Chase Carpenter took the loss for the Vikings. Graybill had 4 more hits for Bronson with a double and 3 rbi's while Kegan Ayres had five rbi's with two hits. The Vikings close out with an 18-and-18 record. Quincy improved to 19-and-16 and they advance to the Bronson regional and will play Parchment in the semi-finals on Saturday at Noon.
In softball Saturday, Coldwater's season came to an end in the Sturgis Division Two district as the host Trojans beat the Lady Cardinals 2-to-0 in the semi finals. Sturgis pitcher Dominique Beach tossed a no-hitter with 14 strikeouts and no walks. Coldwater finished with a 15-and-20 record. Edwardsburg beat Sturgis 8-to-0 to win the district title.
In the Quincy Division Three softball district, Bronson won the title, blanking Constantine 5-to-0 in the semi-finals before beating Union City 17-to-1 in the championship game. In the other semi-final game, Union City eliminated Quincy 7-to-4. In Bronson's semi-final victory, Skyler Sobeski tossed a three hitter with 7 strikeouts. She helped her own cause with a home run and two rbi's while Lindsey Sikorski added a single and a double with an rbi. Sobeski also was the winning pitcher in the title game with a six-inning 2 hitter with 8 strikeouts and one walk. Kassidy Bystry went 5-for-5 with 2 triples, 3 singles, and 4 rbi's. Kelsey Scheenks and Liz Wielgos added 3 hits apiece. Bronson improved its record to 31-and-10 and will host its own regional on Saturday, taking on Comstock in the semi-finals.
And in track, the state finals were held on Saturday in the Grand Rapids area, and Union City led the way for Branch County with the Charger's boy's team finishing second in Division Three while bringing home a number of gold medals. Senior Chris Maye wrapped up an outstanding career, winning his second straight 100 and 200 meter dash titles while taking second place in the long jump, which he won last year. Maye also ran on the Charger's first place 400 meter relay team along with Aaron Watson, Josh Holton, and Zach Smith. Holton also finished seventh in the state in the 400 meter dash.
Also in the boy's finals, Quincy's Levi Drumm took sixth place in the Discus. In the girl's track finals, Union City's Brooke Johnson placed third in the high jump, seventh in the 100 meter dash, and eighth in the 200 meter dash. And for Bronson, Mariah Roberts won a third place medal in the 100 meter dash.
Coming up today on the Coach's Corner, it's Coldwater baseball coach Randy Spangler.