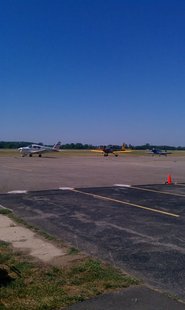 COLDWATER, MI (WTVB) - The weekend began with wet and cold weather but everything turned out well with mostly clear skies and comfortable conditions for all of the busy activities around Branch County on Saturday and Sunday. That includes more than 60 planes that landed at the airport in Coldwater for the annual fly-in breakfast yesterday.
The Quincy Class of 2012 also graduated.
And 3,810 ducks were sold at five dollars apiece to benefit hospice services in Branch County and the grand prize winner of Saturday's 2012 Community Health Center of Branch County Great Hospice Duck race was S. Maddox, we weren't supplied a first name, but Maddox wins 2,012 dollars in cash donated by Dutcher Funeral Home of Coldwater and Dutcher-Kolcz Funeral home of Bronson.