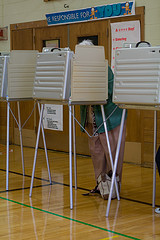 UNION CITY, MI (WTVB) - The tie vote stands in the Village of Union City and that probably means cuts are coming to the Village Police Department. They held a recount Thursday of the May 8th balloting which produced 88 yes and 88 no votes on the question asking for a new tax to fund police operations and equipment. By law, a ballot proposal that results in a tie vote means the issue is defeated.
For Union City, the 4-mill, ten year levy would have raised 80-thousand dollars annually and funded a full time police officer along with needed equipment upgrades. The police department has 4 full time officers, including Chief Tom Case and a part time officer.
Case has said failure of the levy would require the elimination of one full time position. The Union City Village Council is expected to discuss the situation at its next regular meeting a week from tonight.